17 Feb 2016
2016 Superyacht Intelligence Annual Report: Out Now
Rory Jackson

The 2016 Superyacht Intelligence Annual Report is now available to purchase and download online. As of today, subscribers to the Superyacht Intelligence Annual Report can click here to gain instant access to a printable online version of the report while the hard copies will be dispatched over the course of the coming weeks. If you wish to subscribe for the 2016 Superyacht Intelligence Annual Report, click here.
Following hundreds of hours spent investigating and analysing data, The Superyacht Intelligence Agency has created the world's most incisive and accurate market intelligence tool available to-date.
Beyond an updated and improved Global Order Book, this years Superyacht Intelligence Annual Report features a Designer Global Order Book and five-year performance analysis of the industry's Top 50 shipyards, highlighting key areas of growth and opportunity in terms of size and geographical location.
Furthermore, 2016's new and improved report boasts analysis by Gross Tonnage, a metric commonly discussed but never truly explored - until now.

image by Andrew Johansson
To read the full issue of The Superyacht Report please register here after which you can download your free trial issue. Please note one free trial issue per person (this does not include The Annual Report issue).

For full subscribed access click here or to login to your existing subscription access click here
1038685
Latest issue
Categories
In response to an article published in issue 167 of The Superyacht Report, Craig Bell, founder of Ruya Marine Support outlines how our quest to educate new owners can also enhance industry standards. More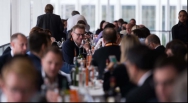 This year's Global Superyacht Forum will feature a wealth of networking opportunities for all those in attendance, in addition to workshops and keynotes. More
For information on contributing editorial ideas or articles please click here.
Sign up for a competitive portfolio package to keep yourself informed and ahead of the competition.
Our latest issue is packed with interviews, serious business analysis and opinion from those operating at the highest levels of the industry.