10 Mar 2015
The air we breathe
Maxine Cheyney

During the recently held International Superyacht Coatings Conference (ISCC) – an event which saw industry experts representing a range of key roles involved in the coatings process of newly-built and refitted yachts, came together to define standards and discuss a number of exciting innovations that look set to impact the industry. From a shipyard, paint, environmental and health perspective, methods of effectively dealing with air-borne pollutants, such as dust, gas, odours and static electricity in the workplace, are highly desirable.
Having focused on traditional subjects, the final ISCC sessions examined new coating technologies and materials such as the use of foils. Other innovative techniques discussed were electrostatic spraying and the minimisation of volatile organic compounds (VOCs) through ionisation methods. When it comes to air quality, superyacht yards present a particular challenge due to the wide range of activities taking place – from metal grinding and welding, through to woodworking and GRP fabrication and layers of precise paintwork, with more and more of this activity being conducted indoors.
In the next five years it is likely that these activities will all need to be done in a covered indoor space to prevent environmental pollution. On top of the increased demand in size and quantity, the wish from owners for bigger, more extreme and more voluminous yachts forced this industry to exceed its previous performance in terms of finish every time. In the meantime legislation has enforced stricter requirements - from the operations of the yachts but also to the build process and the facilities.
Changing legislative requirements

In terms of coatings, legislation - both European and global – there are various demands and limits, specifically related to:
• Emissions of and exposure to solvents in paint products and underlying systems;
• Substances (mostly named biocides) used in anti-fouling measures;
• The application process inside the facilities of the shipyard, interior supplier or applicator;
• The chemical structure of the various paint products and coating systems.
Most boat manufacturers or repair businesses use hazardous chemical products in their everyday operation. The requirements of the SED chapter within the Industrial Emission Directive restricts/changes the use of products that contain VOC and therefore, may require the facility to alter working practices or to install additional equipment to recycle or prevent the volatile compounds escaping into the environment. Ultimately this will end up adding expense to the operating costs of the facility.
The NEC directive sets upper limits for each member state for the total emissions of the four pollutants responsible for acidification, eutrophication and ground-level ozone pollution (sulphur dioxide, nitrogen oxides, volatile organic compounds (VOCs) and ammonia). The Clean Air for Europe Programme (CAFE) policy was launched with the aim to develop long term, strategic and integrated policy advice to protect against significant negative effects of air pollution on human health and the environment.
Air quality standards, particularly those relating to chemical contamination such as styrene, are therefore becoming more stringent over time. Benefits of extra health and safety measures can include less time off due to injury and sickness, and improved workforce morale and motivation due to better working conditions. These positive outcomes often drastically mitigate the upfront cost of improvements to the workplace.
What was emphasised during ISCC was the safe use of hazardous substances and high performance products, particularly where chemistry is involved. What is important is whether users can be trusted to comply with local regulations when using such volatile substances. The market for such substances is becoming increasingly regulated, especially regarding VOC laws and the taxing of VOC levels. For this reason, shipyards, applicators and suppliers need to be seen to be in compliance with local regulation – eg. In the EU set by the IED (Industrial Emission Directive), for products by REACH (Registration, evaluation, authorisation and restriction of chemicals) protocols and for products, emissions and hazardous substances effecting water (inland and marine) according to the Water Framework Directive and the Maritime Strategy Framework Directive.

Good stewardship of hazardous chemicals means that these products, on which the boating industry currently relies, will stay in the market for longer – should regulators be convinced that the users/ applicators can use the product safely. Prohibiting the use of certain products is a threat to the industry. Therefore it's crucial that the industry find a way to safely use them, which is where the growing focus on nano-technologies and ionisation comes in. These technologies have sustainability and environmental benefit in mind. By minimising exposure of the workforce to harmful gases, and reducing emissions to the environment through the reduction of VOCs in the workplace, a shipyard/ product/process is more likely to gain government approval. The investment required to adopt this technology leads to environmental control around the activity and is vital in reducing risk and improving the quality of the product (eg. less dust inclusions).
What exactly is Ionisation?

Conventional ventilation systems work well with visible particles and adequately with smaller particles (smoke), however the air circulation process can cause dust and dirt to be transferred elsewhere, which can be an issue when it comes to the finishing process where a high gloss, smooth finish is required in a shipyard. They also don't remove the tiniest nano-particles from the air, which means they are easily inhaled. Ionisation, however, causes all particles to precipitate at their point of origin and they can then be vacuumed up and removed.

An atom has an equal number of electrons and protons. An ion is simply an atom either missing an electron (positive charge) or with an additional electron (negative charge). An air ioniser uses highly charged electrical surfaces to create negative ions, and the positively charged contaminant particles are attracted to these negative ions in an effect similar to static electricity. This causes fine air particles (eg. dust, smoke, microbial spores) with opposite charges to stick together. Densely combined particulates clump together in the atmosphere and eventually precipitate where they can be swept up off the floor, creating a cleaner air environment. However, production of purely negative ions can, occasionally, result in an excess of these particles so devices capable of forcing the correct positive/negative ion ratio are obviously superior. Such devices are known as ESD ionisers, or balanced ion generators.

According technology owner, Mats Nilsson, of Aircode, the process emulates nature's own way of purifying air by providing balanced quantities of positive and negative ions. Testing has shown that this leads to a reduction in: 

All Airborne particles, including dust –75%

Ethylene –From 3 ppm to almost zero (0.1 ppm) 

Elimination up to 99% of airborne solvents in plastics manufacturing plants
Michigan test of VOCs showed between 75 - 78% reduction in VOCs
Welding gases – one of the most dangerous gases, are reduced to almost zero
Static electricity – 100% eliminated immediately 

Microorganisms –95%

The two yards that to date have experience with ionisation within their application process are Feadship (since 2009) and since the beginning of 2015, Amico Shipyard in Genoa. Another well-known builder and refit yard is currently testing the system for reasons of health and safety, environment and quality improvements.

Mats explains, "This is a documented technology that simply and efficiently helps to eliminate particles, spores, gases and static electricity to create a healthier indoor atmosphere for people, fresh produce and equipment. Aircode has the potential to enhance the finished product and at the same time work for the environment, including the health and safety of the workers, reducing VOCs, particles, static electricity and risks of fires and explosions on the workshop floor."
Ionisation, as a method of ensuring air cleanliness is well established, and is now also finding new markets in hospitals and food processing plants as an effective way of killing bacteria and germs. Ionisation units can be mounted on the wall or ceiling, portable or installed into new, or retrofitted, ventilation systems.
Measuring Volatile Organic Compounds (VOCs) with the ICOMIA Solvent Emissions Recording Tool
ICOMIA's Solvent Emissions Recording Tool has been developed to assist Marine Industry Associations and their members measure VOCs and check if a company and/or yard are in compliance with solvent emissions targets and levels. The yards and boat builders can use the tool for important production management information. The tool is free to download from the ICOMIA Website. It will be reviewed and updated by June 2015.
To read the full issue of The Superyacht Report please register here after which you can download your free trial issue. Please note one free trial issue per person (this does not include The Annual Report issue).

For full subscribed access click here or to login to your existing subscription access click here
647359
Latest issue
Categories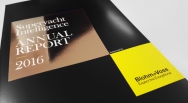 The 2016 Superyacht Intelligence Annual Report is now available to purchase and download online. More
In response to an article published in issue 167 of The Superyacht Report, Craig Bell, founder of Ruya Marine Support outlines how our quest to educate new owners can also enhance industry standards. More
For information on contributing editorial ideas or articles please click here.
Sign up for a competitive portfolio package to keep yourself informed and ahead of the competition.
Our latest issue is packed with interviews, serious business analysis and opinion from those operating at the highest levels of the industry.