13 Nov 2015
Quantum Marine Stabilizers Breaks Ground for their new international headquar...
Quantum Marine Engineering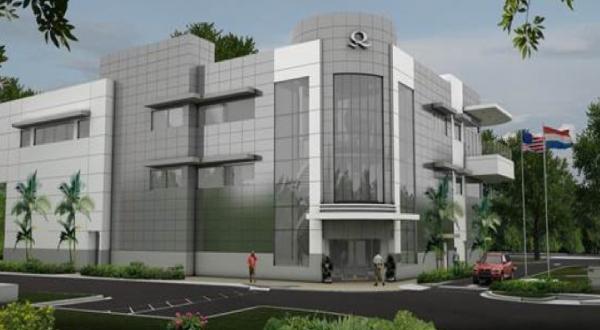 Ft. Lauderdale, Florida USA – November 12th 20015 Quantum Marine Engineering and Quantum Stabilizers, Inc. are pleased to announce they have broken ground for building of their new international headquarters (November 10th 2015 at 3:45pm).

The new environmentally conscientious design will be a three story 30,000 sq/ft(2,800sq/m) LEED 1 certified building and will facilitate the entire company under one roof, with over 80 parking spaces strategically located within the 2.5 acre preserve area. Special attention has been shown to provide a modern and contemporary building that will harmonize with and preserve the existing trees, such as the live oak hammock, native vegetation and the surrounding ecology. The colors selected are neutral tones that are harmonious with the existing palette within the surrounding buildings.
The building design utilizes a scored EIFS system that relates to the adjoining Port 95 neighboring buildings with accents of more sophisticated materials, i.e. glass curtain wall and aluminum composite architectural panel system, to project the proper image for this high technology marine company.

Ergonomically designed and featuring the latest in "green" technology that will minimize energy consumption, the project uses a conventional shell construction (masonry, concrete and glass) with durable interior finishes for the administrative offices, training rooms, R&D and engineering dept., machine shops, and parts department.

Located directly opposite their existing offices and manufacturing facility, the new building has been specifically designed to allow for future expansion for administrative, R&D, design and manufacturing.

The new physical address will be: 3685 SW 30th Ave, Ft. Lauderdale, Florida, 33312 USA.

"On behalf of our entire Quantum family, we are looking forward to being able to call this our new home. The building design will allow us to streamline our productions and enhance inter-departmental communication." said John Allen, President of Quantum.

Allen continued, "We have seen the superyacht industry grow considerably over the past ten years, not only in sheer numbers but the size and sophistication of the vessels along with the products they use. To maintain our continued expansion we have focused our efforts on both product development and client services. All of which is made possible by the careful selection of talented employees. If a company wants to stay at the top of its industry it has to realize the expectations of its customers."

Since 1985 when the company was formed, Quantum have become recognized as the world's largest manufacturer of Zero Speed™ stabilizers for superyachts featuring fins up to 20 square meters in size. To date, Quantum has over a thousand systems in service and approximately 175 in production. Based on recent data 80% of the world's top 100 largest yachts fitted with Zero Speed™ systems have chosen Quantum for their ride control system.

With unparalleled market growth within the superyacht industry, Quantum and its partner company Quantum Controls have continued to grow rapidly and develop new technology, such as the XT™ (extendable) fin and MagLift™ Rotary stabilizer system to help stay ahead of the ever expanding superyacht and military world.

Mr. Allen continued, "This landmark step in the evolution of Quantum is made possible in part by the loyalty we have been afforded by our customers over the past 30 years, and for that we will always be grateful."
The entity that submits this press release to SuperyachtNews.com hereby accepts sole responsibility for the facts, accuracy and completeness of the content. All content and mediums submitted are an acknowledgement of the suitability for publication. SuperyachtNews.com accepts no liability or responsibility for any inaccuracies or errors made by the submitter in this regard.
429860
For information on contributing editorial ideas or articles please click here.
Sign up for a competitive portfolio package to keep yourself informed and ahead of the competition.
Our latest issue is packed with interviews, serious business analysis and opinion from those operating at the highest levels of the industry.